Bannerman Station
124 Walnut Street
Wilmington, NC 28401
(910) 262-7653
History
The W. T. Bannerman House at 120 Walnut Street was the residence of William Tate Bannerman (1836 - 1903), a native of Pender County; and wife, Sarah Grady (1862 - 1945). He was clerk and probate judge of the Superior Court of Pender County for fifteen years prior to purchasing this property. His wife was the daughter of Atlas Grady, a former New Hanover County commissioner. Judge Bannerman became successful in large real estate interests in the city, leaving an estate of about $25,000 at his death.
In 1899, he engaged John C. Stout to build four two-story and one, one-story rental cottages adjacent to his Walnut Street house. In 1939, E.B. Bugg, owner of the Wilmington Hotel at the southeast corner of Front and Walnut streets, purchased the property from the Bannermans and razed the houses to make way for a new Art Moderne style Union Bus Terminal and restaurant, designed by George D. Brown of Charleston, West Virginia and constructed by Herbert Cavanaugh of Wilmington.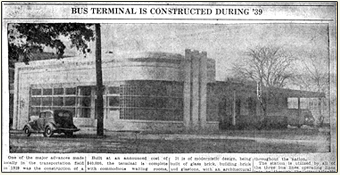 The terminal, built amidst several car dealerships in what was known as "automobile row," served three bus lines: Atlantic Greyhound, Queen City, and Seashore Transportation, and was in use until a new terminal was placed in service, in August 1970, further north at Front and Harnett streets. The Art Moderne building was subsequently occupied by a clothing store, but in 1983, after imposing a 60-day delay in demolition, the Wilmington Historic District Commission approved razing the old bus station.
Conception to Construction
Bannerman Station was conceived by the developer because of an acute need for residential condominiums in the Central Business District. There is a nation-wide trend called re-urbanization which is drawing people back into the cities for a variety of reasons. As a result of this, the developers came up with Bannerman Station, a unique 39-unit, mixed-use project located at the corner of Walnut and Second Streets in Historic Downtown Wilmington.
This building is ideally situated in the heart of Downtown two blocks from the Cape Fear River, a newly renovated river walk and one block east of the Cotton Exchange with specialty shops and restaurants and is only two feet away -- your own two feet.
This building sits across the street from Cape Fear Community College's new classrooms and buildings. This northern part of Downtown Wilmington, where the vast majority of multi-use construction is located, is close to the new convention center and the Corporate Headquarters of PPD and its 2,000 employees.
This is the only building in Downtown Wilmington that provides parking for all of its units, making it unique in that on-site parking is provided for every residence.